The association Svenskbyborna was founded in 1954.
When the association was formed, the main task was to keep the community the villagers always felt and keep the memory alive and spread the history of this event and the peoples life struggle. In October 1956 the board decided to instruct Jan Utas, Björklinge, to write a history book of their lifes.
In 1959, the history book was published in connection with the 30-year memory of the Swedish villagers' return to Sweden on August 1, 1929.
The association is based in Roma on Gotland. At Roma church there is a bell tower in which sits three bells which the Swedes took with them when they left Ukraine in 1929.
In 1976 the association began to built a community house, Svenskbygården, located next to Roma Church. Svenskbygården was totally funded by volontary members of the association.
Svenskbygården was inaugurated on August 1, 1977 by Pastor Sigfrid Hoas. The building is a copy of a typical house in Gammalsvenskby, designed by architect Jan A: son Utas. The acitivities in Svenskbygården is board meetings, choire practise, you can rent it for other events and during summertime there is a museum and a café.
Nowdays the association aslo take on the task of helping the villagers, the ancestors of our relatives, in present time with direct aid and developing projects and gather information and memories of the old period of time to display and share the history.
Petter Annas, Lummelunda on Gotland was elected the association's first chairman. Here is one list of association presidencies of all time:
Petter Annas: 1954-1971
Gustav Kotz: 1971-1981
Gustav Buskas: 1981-1992
Karl-Olof Hinas: 1992-1999
Birgitta Utas: 1999-2011
Sofia Hoas: 2011-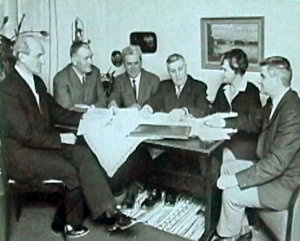 An image from a meeting in the interim administration in 1954.
Sitting from left: Teodor Mutas, Gustav
Kotz, Simom Buskas, Petter Annas, Birgit
Mutas and Karl Hoas